Gautama Buddha – Inaugural Release of the Book
"I am pleased to announce the inaugural release of the book, "Gauthama Buddha", culminating my few years of dedication towards an edited translation of the original book in Sinhala "Buduhamudurwo" by Pandith Ganegama Saranankara Thero.

The book in printed format is ready to come to you in the near future. I have included some additional English interpretations to the award-winning Sinhala book to suit the Western audience."

— Bhante Sirinanda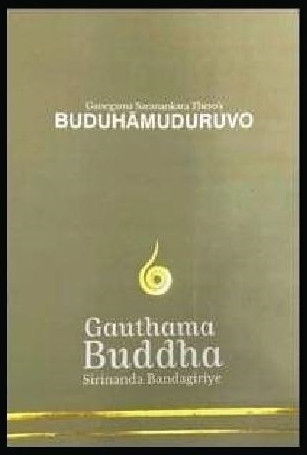 ---
Innagural Book Launch Zoom Meeting Details
While respecting provincial public health regulations, the book launch will take the format of a simple virtual ceremony, on Saturday the June 19th, 2021, with the participation of honourable Nayaka theros and Buddhist scholars.
The two keynote speakers: in Sinhala Venerable Dr. Mawarale Bhaddiya thero and in English Dr. Asanga Thilakarathne, will provide brief introductions to the book.
You are cordially invited to participate in this virtual book launch on
June 19, 2021, at 7-8 pm Atlantic time via Zoom.
Zoom Link – https://us02web.zoom.us/j/138285538
Order the Book
If you like to order a copy of the book, please fill in the form : https://forms.gle/tdWBAp8P67QU1xQ7A
Once reserved, we will mail a copy of the book at our earliest convenience. (Please note that shipping and handling may take some time.) Appreciate your desire to gain dhamma knowledge.
How To Donate
Donations are welcome. Proceedings from the donations goes towards printing and distributing more copies of the books and to cover the shipping and hadling fees
Here are instructions on how to donate
e-transfer
If you are in Canada, please send an e-transfer to basirinanda@gmail.com
Web Payment
You can send donations through PayPay by submitting the form: https://atlanticbuddhist.com/donations/donation-towards-gauthama-buddha-book-order/
Cheque
Please draw a cheque to "Sirinanda Bandagiriye" and mail it to following address:
817 Herring Cove Road
Halifax
NS B3R 1Z1
Canada
(Please note that we do not provide tax deductible receipt for your donation towards this donation since it consider as a book purchase.)